FOR A QUOTE CALL THE NUMBER 
+39 055 8839818


OR SEND AN EMAIL TO [email protected]

The personnel of ARS MOVENDI ES Logistica Firenze will answer all your questions

Ask for a quote
SERVICES
Services. Installation and set-ups, import/export practices and fine art insurance: a complete service to deal with every issue concerning the art world.
STORAGE
A diversified storage service tailored to individual and personal needs: from temporary to long-term storage.
TRANSPORT
Transportation of artworks throughout national and European territory, carried out exclusively by our specialized staff and using our own vehicles.
PACKAGING
We always carry out packaging with attention to detail, in order to handle every kind of artwork and ensuring maximum safety.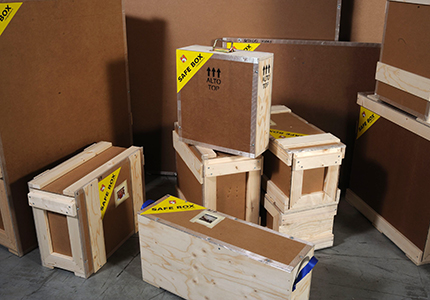 SAFEBOX
The revolution in the transport and conservation of artworks. Safebox: a real innovation in the world of transport and conservation of artworks is condensed into a single word. The Safebox, designed and built by ARS MOVENDI ES Logistica Firenze, is a world to discover: Visit our website and find out more about the Safebox.
GO TO WEBSITE
VALUES THAT MAKE A DIFFERENCE
ARS MOVENDI ES Logistica Firenze believes that it is the people, with their professionalism and experience, who make the difference. 
PROFESSIONALISM
Our staff is made up of a team of professionals, trained and specialized in the handling of artworks.
RELIABILITY
We provide our services all the while taking care of all the details: from technical preparation to specific professionalism, from precision to safety, from punctuality to aesthetic advice.
SAFETY
Every work is carried out with the utmost care and attention, fully meeting all the required and necessary safety standards.
EXPERIENCE
Operating in the world of services for art since 1999, always working with professionalism and competence, we count prestigious museums, galleries, artists and collectors among our clients
PRECISION
The details make all the difference: attention and precision are indispensable prerequisites for operating in this sector.
INNOVATION
Our goal is to provide our customers with the best possible service at all times, which is why we believe in innovation.
OUR WORKS
We have worked on many projects, always offering professionalism, precision, safety and reliability.
Experience, precision, professionalism and safety: a reliable partner for the handling of artworks.